Elevate Rack System by Truxedo
Creating more storage options and overall cargo space for your pickup truck, the ELEVATE RACK will help deliver maximum fun and adventure for all.
Be it soft or hard, rolling or folding, this unique truck rack allows for the installation and full utilization of many premium inside mount truck bed covers.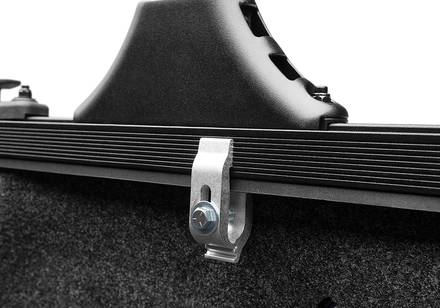 WORKS IN CONJUNCTION WITH TONNEAU COVERS
The Elevate Rack System works with most tonneau covers that mount inside your bed rails without overlapping your truck's stake hole pockets.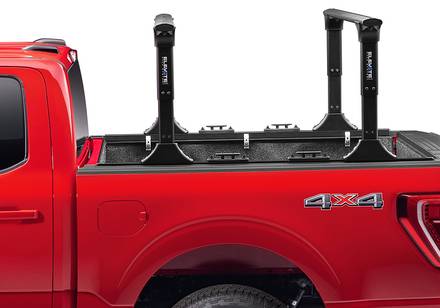 TELESCOPING RACK
The height on this rack can be set at 18 or 28 inches
Rustproof aluminum construction with powder coat finish
Compatible with select tonneau covers that mount inside your bed rails (refer to the compatibility chart)
Elevate T-Slot Rails required for installation on most trucks
Elevate T-Slot Rails not required if rack is installed with a tonneau cover that has T-slots (e.g. RetraxONE XR and RetraxPRO XR)
Telescoping design is adjustable and can be set at 18 or 28 inches
Includes four tie-downs with purchase of T-Slot Rails
Perfect for kayaks, canoes, bikes, cargo baskets, rooftop tents, and more
Integrated T-Slot channels accept numerous cargo management accessories
Limited lifetime warranty
To generate more storage options, you should look at the updated Elevate rack system. This rack system is engineered to be the perfect complement to tonneau covers such as the Extang Xceed, BAK Revolver, Truxedo Roll - Ups, and other covers that mount inside your truck's bed rails. The rack is also perfect for trucks equipped with a Retrax XR tonneau covers, as it can install directly into the cover's T-Slot rails.
The rack - whether you get the CS or the FS rack it has an adjustable height of 18 or 28 inches. Set at 18 inches, it provides easy access & a lower profile look. At 28 inches, it gives you complete cab clearance when it is required for the hauling of larger objects. This rack has the flexibility of being installed, adjusted, or taken off in a matter of minutes.
The Elevate rack is built to last, with its strong aluminum construction & a heavy duty powder - coat finish has a 750-pound static weight capacity. On road weight capacity is 500 pounds - if you need it for off roading, then it is a 250-pound weight capacity. That makes it strong enough to transport baskets, bikes, ladders - and so many other objects!
The t - slot channels were created the accept various tie downs and many other accessories. There is some assembly required for the elevate rack, and average install time is about 30 minutes. If the rails also need to be installed, the average time to install the rack & rails is about 60 minutes.